Business Intelligence
Prometix works with our clients to help them analyse data from multiple sources and present this data in a common format to assist with intelligent decision making across the business. Our clients are hungry for information that helps them measure their past performance and plan for the future.
Data
There are many data sources and metrics that need to be measured and compared – what is the marketing cost to acquire each new customer, what is the profitability per square metre of a facility, what is cost/profit per hospital bed, who are the good and bad customers, where should investments be made, what are the constraints based on the businesses goals and what action can be taken, and many, many more.


Approach
Prometrix work with Microsoft Technology to help our clients establish easy to use platforms to support the business through the automated collection, aggregation and presentation of raw data to support decision making. We help our clients take the 'gut feel' out of running the business.
Familiar Tools
We leverage many of the Microsoft tools that our clients are already familiar with such as Power BI, SharePoint and Excel. We combine these with the power of the backend data platform SQL Server and specialised tools such as PerformancePoint and Power Pivot to make it easier for everyone to uncover insights from the data within the organisation.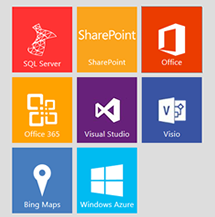 We take into consideration your current technical and application environment, your budget, and the real needs of your users prior to making any recommendations that deliver a measurable result.