Document & Records Management
In many companies documents represent the only tangible evidence of a service having taken place. Documents are the tools that connect working groups and link key business processes to the people who drive those processes. They are the means by which information is converted into action.
Prometix utilise the SharePoint Platform to establish a structure for managing documents and other digital assets so that documents are easier to create, edit, store, retrieve and share with others, both within and outside the organisation.
Single Platform
With all documents held in a central location users will always know where to find the documents they need. No more storing important documents in complex network file structures, individual inboxes, laptops or hard drives.
Standardised document naming and indexing (metadata) allows users to easily find the document they want fast.


​Document Security
The system ensures that documents can only be accessed and edited by approved users to ensure protection of company data and intellectual property. SharePoint has advanced document security features that can be applied without overburdening the user with administrative tasks.
Increased document security can be added by using Rights Management to render read-only documents and disable print, copy, and save functions at the user or document level.
Full Document Lifecycle management
With many people accessing and updating documents the system supports major and minor versioning so users always know which is the latest version of a document.
Users can add annotation, comment and a markup capability exists for easy collaboration. A single unified viewer interface allows easy collaboration and integrates within a SharePoint workflow to speed up the review process.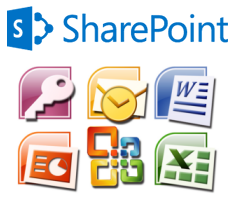 ​Familiar Tools
The Prometix Document and Records Management Solution can be accessed via familiar tools such as Microsoft Office and SharePoint and can be integrated with the company intranet or operate as a standalone system.
The infrastructure can be Integrated with your on-premise environment or accessed via the Cloud.
Document Search
In addition to the standard SharePoint Document Searching facilities, Prometix have developed a number of tools to help users more quickly find the documents they need to work with.
Our solution allows whole and partial word or phrase matching, common keyword patterns, and custom regular expressions. Users can search on multiple terms with the ability to differentiate results with different highlight colors.


​Document Viewing
Prometix can provide a best in class document viewing experience for over 300 different content types in SharePoint 2013. We extend on SharePoint's new mobile friendly interface by providing the fastest, most feature rich, universally accessible content viewing platform available.
Or solutions allow users to view documents whenever and wherever they want. Documents are rendered in real-time and made available to users on a variety of devices and locations.